Dear Friends,
Well, summer is almost here and we're playing a little catch-up as some lackluster weather put a literal damper on our sales volume this spring. Prices have softened a bit in our area in the last few weeks, but with a bump in current negotiations, even with some increases this month in housing inventory, we should start to see a bump in volume as well.
Have a look at some interesting information about new currency technologies, and my stellar new construction listing about to come on the market — "best in show" for Westport's under $3 million category. Built by acclaimed developers, Schmiedeck Construction and located on a gorgeous Hunt Club cul de sac, it has been described as a scaled down, more affordable version of their "Ultimate Modern Farmhouse" located in Westport's Old Hill estate area, which we recently sold for $6 million.
Best,
Joni
Our Housing Inventory Is Up

Trending: Blockchain/Cryptocurrency In Real Estate
Click to get my detailed market reports for Southern Fairfield County
Cutting edge currency technologies like bitcoin are already being used throughout the real estate industry here and abroad, according to Inman News. Properties listed around the world accept bitcoin as payment, although those transactions usually convert bitcoin to cash rather than exchanging bitcoin for property directly.
While developing countries with less entrenched financial systems or less regulation are able to implement blockchain technology for transactions more easily, 45% percent of respondents to Inman's US survey said they see blockchain playing a bigger role in real estate transactions in the future.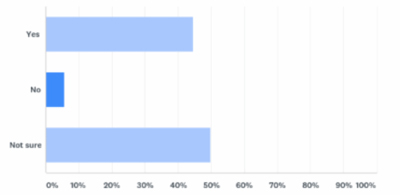 New Listing… Just Completed Hunt Club Classic!